NEPTUNE FIRE DEPARTMENT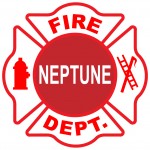 The Neptune Township Fire Department (N.F.D.) provides fire protection to the community of Neptune Township. Neptune is located in Monmouth County, New Jersey and is 8.00 square miles with a population of approximately 30,000 residents.
FIRE DEPARTMENT – OPERATIONS
During fires and emergencies, the Neptune Fire Department is commanded by a Chief of Department and an Assistant Chief. They respond township-wide. The chiefs are supported by four fire companies and a career division. Each company is commanded by a Captain and two Lieutenants.
STATION 34-1 Hamilton Fire Company
– Firehouse located on Jumping Brook Road
– Protects the western section of Neptune
– Operates Engine 34-1-75 and Ladder 34-1-90
STATION 34-2 Liberty Fire Company
– Firehouse located on Monroe Avenue
– Protects the northeast section of Neptune
– Operates Engine 34-2-75 and Support 34-2-86
STATION 34-3 Shark River Hills Fire Company
– Firehouse located on Brighton Avenue
– Protects the Shark River Hills section of Neptune
– Operates Engine 34-3-75 and Engine 34-3-76
STATION 34-4 Unexcelled Fire Company
– Firehouse located on Corlies Avenue
– Protects the southeast section of Neptune
– Operates Enhanced Engine 34-4-75 and Ladder 34-4-90
– Regional Rapid Intervention Team (Monmouth County-wide)
– Certified Ocean County F.A.S.T. Team
– Component of Neptune Special Operations Unit with Neptune OEM
STATION 34-8 Neptune Special Operations Technical Rescue Team
– A component of Neptune Office of Emergency Management
– Responsible for all Technical Rescue emergencies in Neptune and Ocean Grove
– Response: Rescue 34-9-86, Ladder 34-4-90, Utility 34-9-85, Collapse Trailer, MAB, Field-Com
– Recognized rescue team by Monmouth County Emergency Management

STATION 34-9 Neptune Office of Emergency Management
– Station located on Heck Avenue west of Neptune Blvd. 
– Responds to all Hazardous Materials incidents
– Responds to all fires and major emergencies
– Operates units 34-9-85, 34-9-86, 34-9-97, 34-9-99 and many other support units
PAID DIVISION
– Paid Engine Company Monday through Friday from 7:00am to 4:00pm
NFD SAFETY OFFICER
Vacant
NFD TRAINING OFFICER
Vacant
NFD ACCOUNTABILITY OFFICER
Vacant
FIRE MARSHAL
Fire Official/Marshal Douglas Rowell
Fire Inspector Robert Kepler
SQUAD 34-21 Hamilton First Aid Squad
– 3600 State Highway 33, Neptune NJ 07753
SQUAD 34-22 Neptune First Aid Squad
– 5 Neptune Boulevard, Neptune NJ 07753
SQUAD 34-23 Shark River Hills First Aid Squad
– 201 Carton Avenue, Neptune NJ 07753
SQUAD 54-21 Ocean Grove First Aid Squad
– 50 Olin Avenue, Ocean Grove NJ 07756
SQUAD 34-25 Neptune EMS Rescue Services
– Dispatches specific EMS Rescue assets as required