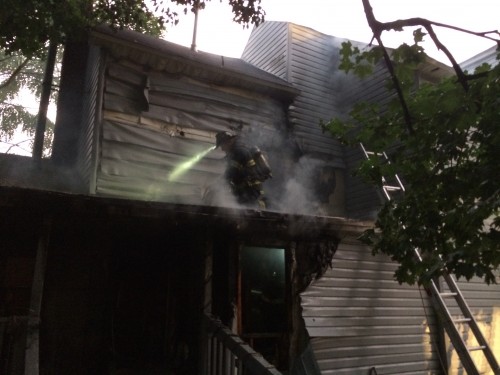 Unexcelled Fire Company was dispatched mutual aid the City of Asbury Park to 215 Borden Avenue for a working structure fire on September 11, 2014 at 5:48 am.  The structure was a two story occupied multiple dwelling.
Upon arrival, Unexcelled firefighters were assigned as the Rapid Intervention Team (R.I.T.).  The crew placed ground ladders around the structure and assisted Asbury Park with fireground operations.
The incident escalated to a three alarm fire before being brought under control by the outstanding efforts of A.P.F.D.
No injuries were reported
During the three alarm fire, Unexcelled Ladder 34-4-90 was assigned to Asbury Park Fire Headquarters for a cover assignment.  During the cover assignment, 34-4-90 responded to and handled a smoke condition call on Jeffrey Street.