The Unexcelled Fire Company was founded in 1888, and is located in Neptune Township, Monmouth County, New Jersey.
It is the busiest of the four fire companies within the Neptune Fire Department, and responds mutual aid to many of our surrounding towns including the City of Asbury Park, Ocean Grove, Bradley Beach, Avon, Neptune City, Wall Township, Allenhurst, Tinton Falls, Long Branch, West Long Branch, Ocean Township and other local towns.
On average we respond to over 500+ fire and emergency calls per year.
Our fire company has a roster of 25 members. The firehouse (response, fire apparatus and equipment) is commanded by the Captain and two Lieutenants. The administrative section of the fire company is controlled by a President, Vice President, Treasurer and Secretary. Trustees are responsible for the building, grounds and fire company property.
We operate two rigs – a 2006 Pierce Engine and a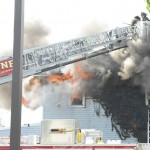 2009 Crimson Tower Ladder. Both rigs are equipped with essential firefighting tools and enhanced rescue tools, such as Champion extrications tools, high angle rope and rigging, RIT down man air supply kit, confined space rescue equipment, gas meters, thermal imaging cameras, cribbing, power saws, and much more.
The Unexcelled Fire Company is a proud support of the community, community events and related functions. We participate in Neptune Day, Community Day at Jersey Shore University Medical Center, Community Day at Home Depot, the FF Robert J. Foti Golf Tourament, and many more.
Although the company does receive some funding from the fire district, we rely heavily on the generous donations from our residents and supporters. Monitary contributions are used for much of our equipment and supplies.  Some examples are: building maintenance such as paint and carpeting, computers and computer maintenance, copy machine and maintenance, copy paper, fire and rescue training, training props, training materials and handouts, fire and rescue equipment and more.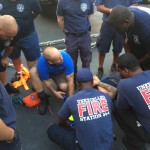 Regarding training, the fire district does not fund training (bringing in outside instructors or paying and/or reimbursing firefighters for outside class offerings).  Unexcelled Fire Company uses thousands of dollars each year that we receive through donations to bring in experienced and well-recognized instructors to provide a variety of training topics.  As an example, in 2014 we welcomed Deputy Chief, Author and FDIC lecturer Frank Viscuso to teach Officer Development and Leadership.  We also welcomed USMC Major and FDNY Rescue 3 Firefighter Jason Brezler who presented his nationally presented program "Making Yourself Hard to Kill".
Regarding equipment, the Unexcelled Fire Company purchased over $25,000 worth of auto extrication equipment in 2010.  This purchase was to (1) to support firefighter rescue operations and (2) to help reduce the time during response and rescue of victims entrapped in car accidents.
In 2013 the company purchased a new Thermal Imaging Camera to replace the 1990's unit that was obsolete.  We have always used money received through donations to continually equip and support our mission and operations.  This year we purchased thousands of dollars on rope rescue in order to enhance our ability during dynamic and technical type rescues – all money used through generous donations.
Throughout the year, the fire company holds various fund raisers to accomplish these goals.