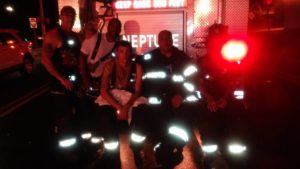 During the evening of July 22, the Neptune Fire Department's Unexcelled Fire Company was called to neighboring Asbury Park for a reported structure fire.
The incident was located on Memorial Drive near Springwood Avenue.
Upon arrival, first due fire units from APFD found two separate buildings on fire.  They immediately began battling the two blazes, securing a water supply, stretching hose lines and performed searches.
A second alarm was transmitted by Asbury Park Fire Department command.
Firefighters battled the fires for several hours.  In addition to firefighters from Asbury Park and Unexcelled Fire, units from Ocean Township, Tinton Falls, Allenhurst and Ocean Grove assisted city firefighters.
The fire is under investigation by the Asbury Park Fire Department, Monmouth County Fire Marshal's Office and Monmouth County Prosecutors Office.