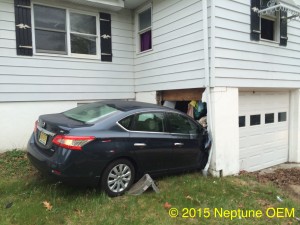 NEPTUNE, NJ:  On May 18, 2015 at 5:45pm, the Fire Department, Police Department and EMS were dispatched to a reported car into a house.  The incident was reported to be at 753 Wayside Road, near Rhodes Terrace in Neptune Township.
Upon arrival of Neptune Assistant Fire Chief Daniel Harker, he found that a passenger car had crashed into a single family home resulting in moderate structural damage.
Chief Harker established command and requested the Neptune Township Special Operations Team – Station 34-8 – be dispatched.
Also assigned through automatic mutual aid was South Wall Fire Rescue's Special Operations Team from Wall Township, who responds with Rescue 52-3-86 and their Collapse Trailer.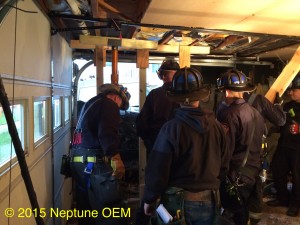 Neptune Special Operations Team Leader Donald Colarusso arrived along with Shark River Hills Fire Company.  A scene assessment was made, as well as a primary search of the dwelling.
As additional Special Operations Team assets were arriving, an Incident Action Plan was developed.
The command staff was organized with a transfer of command to Donald Colarusso. Chief Harker was assigned Fire Branch Director and Bil Rosen was assigned Medical Branch Director.
Special Operations Assistant Team Leader Joseph Mauro was assigned as the Operations Section Chief, and upon arrival of South Wall Fire Rescue, Chief John Sahatjian was also assigned to the command staff.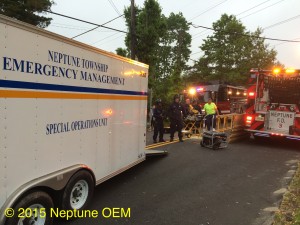 A quick briefing was held to communicate the incident action plan and solicit feedback.  Then members were tasked with executing the plan.
Manpower was assigned to the various tasks. These included placing struts, constructing the shores, working the cutting station, monitoring the surveyors transit, safety, planning and other logistical tasks.
Crews first placed struts under the front header of the garage, and then constructed a double vertical shore.
Once that was completed, crews accessed the garage and placed struts.  They then constructed a three-post vertical shore.
Upon completion of the shoring, team members connected a Grip Hoist to the vehicle so the removal could be slow and controlled.  The vehicle was into the foundation tight.  All attempts were made to keep the corner masonry wall in place.  Despite being damaged, it was still supporting that corner of the structure above it.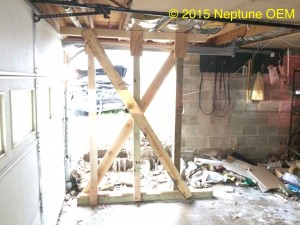 The vehicle was successfully removed without any further damage.
This was the first Special Operations Team deployment with a recently signed automatic aid agreement between Neptune Township and South Wall Fire Rescue (Wall Fire District #3). The teams had previously trained together, and during this incident, team members worked incredibly well as a group.
The driver of the vehicle sustained minor injuries and was treated at the scene by EMS.
Units that operated on scene included:
Neptune Special Operations Team, Station 34-8
South Wall Special Operations Team, Station 52-3
Neptune Office of Emergency Management
Unexcelled Fire Company, Ladder 34-4-90
Shark River Hills Fire Company, Engine 34-3-76
Neptune OEM, Field-Com 34-9-97
Neptune OEM, Special Operations 34-9-85
Neptune OEM, Collapse Trailer
Shark River Hills First Aid, MAB-2 Ambulance Bus
Neptune EMS
Neptune Police
Neptune Building Department