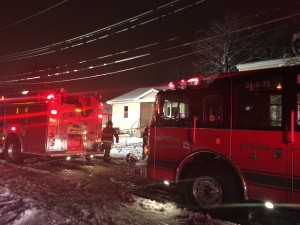 A Neptune Fire Department General Alarm was transmitted at 8:13 PM on March 20 for a reported basement fire at 126 Leonard Avenue.
First arriving fire units found a working fire in the basement of a one story private dwelling.
Unexcelled Engine 34-4-75 arrived shortly after the first due engine, and immediately went to work assisting the initial hoseline and stretching a secondary hoseline.
Ladder 34-4-90 arrived shortly after Engine 34-4-75.
Primary and secondary searches were performed and were negative.
The fire was brought under control after approximately 30 minutes.
The fire is under investigation by the Neptune Fire Marshal and the Monmouth County Fire Marshal's Office.
Neptune Fire Department units on scene included Liberty Fire Company (first due), Shark River Hills Fire Company and Hamilton Fire Company.
Mutual Aid to assist at the scene and for cover assignments included Tinton Falls (to the scene, assigned as the RIT), Neptune City Fire Department, Oakhurst Fire Department, Glendola Fire Company and Avon Fire Department.
Photo shown courtesy of Shore Area News Dispatch on Facebook