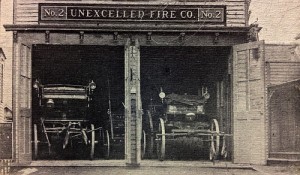 The first records available show that on December 19, 1888, a fire company was organized under the name – Goodwill Fire Company of West Grove. However, on January 21, 1889, a motion was passed that the name be reconsidered and a motion was likewise passed that the name "Unexcelled Fire Company" be adopted. The first meeting was held in a carpenters shop in the rear of the residence of Silas W. Barton, Sr at 1142 Corlies Avenue. This location was also the first fire headquarters.
Our first fire apparatus consisted of a stripped wagon with running gear, which carried two painters ladders and several water buckets.
The first fire alarm system on May 10, 1890 consisted of a locomotive rim, which was suspended from two poles and a cross bar. The alarm was sounded by someone striking the rim with a hammer, alerting the firefighters of the call to service.
The first social function occurred on October 9, 1890 in the form of a "supper". This event hosted fifty people and was held at the old "Central Hall" on Mattison Avenue in Asbury Park. The profits from this function was used to purchase fire equipment. Firemen and their wives "solicited and begged" for food for this event. The price of a ticket was 30 cents. According to reports, this event was a huge success.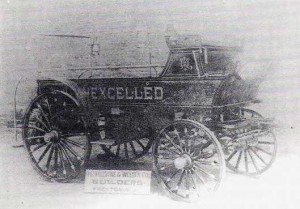 A "new" chemical fire apparatus was provided by the Fire Commissioners. Shortly thereafter, and after months of hard work, the building of a firehouse was completed on January 9, 1891, bearing the name "Unexcelled Fire Co. No. 2″. The new firehouse enjoyed such luxuries as a second-hand chandelier, containing four kerosene lamps that provided illumination up to 10:00 at night, which was the taboo hour. This chandelier was purchased from the E.H. Stokes Fire Co. in Ocean Grove.
On October 2, 1899, an additional fire apparatus was purchased. A "supply wagon" was acquired for $20.00.
On July 10, 1903 a new hose wagon was purchased for $492.00 from Valentine and Weeden of Trenton, NJ. The new "shiny up-to-date" apparatus was marked with a suitable celebration.
The Unexcelled Fire Company had a horse-drawn Hook & Ladder truck, in which the rear was steered by a tiller man. It was purchased July 10, 1905 from Enterprise Hook & Ladder Company, Stapleton State Island for $500.00. The truck served Unexcelled up to the time in 1923 when an American LaFrance Cities Service Hook & Ladder took its place.
On May 20, 1919, we saw the end of the horse-drawn fire apparatus era. A new combination 500 gallon motor driven pumper was received from American LaFrance Fire Engine Company at a cost of $9,000.00.
An interesting note is that the Unexcelled Fire Company fire apparatus was not always red. Minutes from the Board of Fire Commissioners at their December 4, 1918 meeting saw a motion by John N. Ennis that the color of the new apparatus ordered be gray with gold stripes and he would give Mr. Beutell of American LaFrance Fire Engine Company a sample of the color. Seconded by John B. Stout and carried. The pupmer that they received was originally intended to be shipped overseas to France during the first World War but the Armstice was signed and so this apparatus was delivered to Neptune. It was painted Army Olive Drab and this color met with the approval of the boys and from that date, the 4 cylinder pump was delivered in 1919, up to the time of the Mack Pumper was ordered, the color of Unexcelled Apparatus was Olive Drab.
On December 13, 1923, another addition was made to the motor driven equipment when a combination city service truck and hook & ladder was placed into service.
With the demand increasing for additional equipment, it became necessary to erect an addition which made the fire station about twice it's original size. The first part of the project was completed in August 1924.
On April 9, 1926 an order was again placed with the American LaFrance Engine Company for one combination pumper and hose motor car, capable of delivering 750 gallons of water per minute. This fire apparatus was received on Augsut 6, 1926.
Although soda and acid extinguishers on fire apparatus were on the way out on apparatus purchased after 1926, it is interesting to note that Unexcelled still used soda and acid up to the year 1954, when the Arial Truck was delivered. Portable hand extinguishers of the soda and acid type called Babcock's were still being used up to about 1956.
As the need for our services grew, on October 7, 1928 an ambulance was placed into service utilizing equipment already enumerated.
The 50th Anniversary celebration was held on September 9, 1938 at the Chateau. On September 11, 1938 three buses left the firehouse to spend the day in New York City, going to a baseball game and taking in the sights.
On October 3, 1938, the charter of the Unexcelled Fire Company was redrawn and filed at the County Clerks Office in Freehold.
On Sunday – September 24, 1939, the Company attended the New York's World Fair.
In May 1939 the Company organized a softball team and played against the Colts Neck Firemen in a cornfield in Colts Neck. The Unexcelled team lost and paid for the treat. A return game was played at the Unexcelled Field against the brothers from Colts Neck and this time Unexcelled scored so many runs in the first few innings that the game was called on account of darkness! The Colts Neck firemen treated that time.
In September 1939 a First Aid Unit was formed in the Company. It was named the Unexcelled Fire Company First Aid Squad. Permission was granted for them to use the "Speed Wagon" for emergency use. It is interesting to note that the only call answered by this unit was a train wreck in Farmingdale in 1940.
From 1942 to 1946 a large portion (38) of our members were in military service. The company meetings were short and company activities held to a minimum.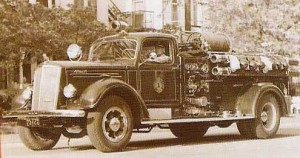 On July 16, 1948, a 750 gallon Mack pumper was delivered. On September 17, 1954 a new 75-foot American LaFrance Aerial was delivered to replace a 1923 American LaFrance Cities Service Hook & Ladder Truck, which was discarded.
A 1919 American LaFrance, 4 cylinder, 600 gallon pumper was discarded in 1956.
On September 17, 1958 a 750 gallon 900 Series American LaFrance Pumper was delierved.
On March 29, 1963, Unexcelled firefighters journeyed to the Newark Fire Department to stay the weekend and ride their fire apparatus to fires.
In 1988, the Unexcelled Fire Company retired our 1926 American LaFrance 750 gallon Rotary Gear Pumper, known as "Old Betsy". This pumper was originally delivered on August 26, 1926 and had pumped for many, many hours at practically every large fire in the area. Presently (2014) it is owned by the Unexcelled Fire Company.
In 2013 the Unexcelled Fire Company celebrated it's 125th year.  The 25 active members celebrated this milestone with our commitment and dedication to the residents of Neptune Township, responding to over 500 emergency calls not just in our response area, but township-wide.