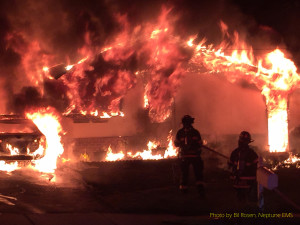 A general alarm was transmitted for a reported house fire at 102 Allenhurst Avenue on September 3, 2016 at approximately 11:23 pm.
Upon arrival of Fire Chief Daniel Harker, he found a fully involved house fire.
A second alarm was transmitted.
The Unexcelled Fire Company responded with Tower Ladder 34-4-90 as the first due truck and Engine 34-4-75.
Upon arrival, there was heavy fire throughout the one story private dwelling.  The first and second due engines quickly deployed handlines and began suppressing the fire.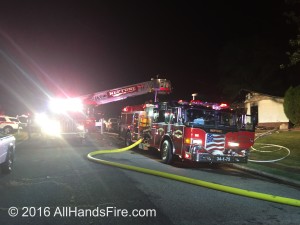 The home sustained heavy damage throughout, in addition to the loss of two cars that also caught fire prior to the fire department's arrival.
One firefighter was injured and transported to Jersey Shore University Medical Center in Neptune.
In addition to Unexcelled Fire Company units on scene, Hamilton Engine 34-1-75, Shark River Hills Engines 34-3-75 and 34-3-76 and Liberty Engine 34-2-75 and 34-2-86 battled the fire.  Also, Tinton Falls was on scene as the Rapid Intervention (R.I.T.) Team.
The fire is under investigation by the Monmouth County Fire Marshal's Office and the Neptune Fire Bureau.
Photos provided by Neptune EMS Chief Bil Rosen and www.AllHandsFire.com
##