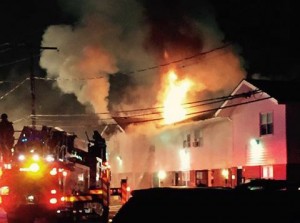 On March 25 at 11:49 PM, a Neptune Fire Department "General Alarm" was transmitted for a reported bathroom fire at 1117 Embury Avenue, Apartment #27.  This building is the Neptune Housing Authoriy's William Steele Apartments.
Upon arrival of Assistant Chief Daniel Harker, smoke was visible from the two and one half story occupied apartment building.  According to the chief's radio report, smoke was visible from the soffits, eves and roof vents.  Shortly thereafter, the fire became visible through the roof.
A second alarm was transmitted, bringing cover assignments from neighboring towns and a Rapid Intervention Team.
Unexcelled Fire Company Engine 34-4-75 was first due and established a water supply from a hydrant directly across the street from the fire building.  Crews immediately deployed a hoseline and ascended to the second floor apartment.  The fire appeared to be in the attic space above the bathroom.
Unexcelled firefighters made an aggressive attack, quickly opening up the ceilings to expose suppress the fire.  Also at this time, Shark River Hills Engine 34-3-76 and Unexcelled Tower Ladder 34-4-90 arrived.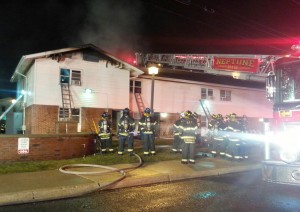 The crew from 34-3-76 stretched a second line to the adjoining apartment (#28) and immediately checked for fire spread.  The crew from TL 34-4-90 performed outside ventilation and roof ventilation.
Primary and secondary searches were performed by firefighters from Unexcelled and Shark River Hills.
The fire was brought under control after approximately 30 minutes.
No injuries were reported at the scene.
Other Neptune Fire Department companies on scene included Liberty and Hamilton.  In addition, Tinton Falls fire company responded as the RIT team; Neptune Office of Emergency Management, Neptune EMS and Neptune Police were on scene.
The fire is under investigation by the Neptune Fire Marshal 34-30 and the Monmouth County Fire Marshal's Office.
Photo (top) provided courtesy of Rozziel Murrin
Photo (bottom) from Facebook
##