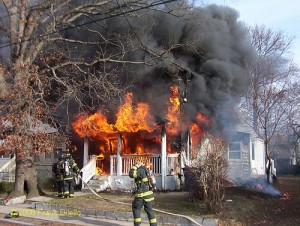 The Unexcelled Fire Company has a proud tradition of training, service and dedication.  Those valuable traits have been, and continue to be, the foundation of the company and it's members for over 125 years.
One very important function that the company provides and continually works on is it's designation as a Rapid Intervention Team (RIT).
Identifying and creating this program for this area was established in the late 1990's and was referred to then as a Firefighter Assistance and Search Team (FAST),  This was modeled after the New York City Fire Department's F.A.S.T. trucks that were assigned to working fires.
In those early years, Unexcelled Firefighters were taught by instructors that were among the best, and were offering some aggressive and tough programs.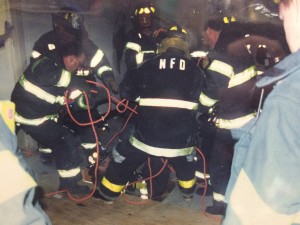 In April 2001, a joint training drill was held at the Evans Area Military Base with the Fort Monmouth Fire Department and Wall Township firefighters.
Instructors from the FDNY – Battalion Chief Donald Hayden and Lieutenant Sal Marchese – presented this intense firefighter rescue training program at one of the large vacant buildings on the base.
* See photo left.
Students were taught how to rescue firefighters who had fallen through a floor (Nance Drill), drags, carries, firefighter movement up and down stairs, using a ladder as a high point, and more.
As time went on, the company was being requested more and more to working fires in neighboring towns.  The importance of having a RIT team on scene, and fire department's satisfying the "2-in / 2-out" rule was incredibly important.  Our company was getting better in being a valuable resource to incident commanders and to firefighters operating at fires.
Then and now, our RIT team was proactive, throwing ground ladders, ensuring that there was accountability, and being an extra set of eyes and ears for fire chief's.
On December 27, 2001, the Unexcelled Fire Company received a Certificate of Appreciation from the Long Branch Fire Department.  This award was presented for our service as a Rapid Intervention Team during a major fire at the Monmouth Rubber Fire, which occurred earlier that year on February 13.
Company drills were continually held, practicing firefighter packaging, firefighter removals and other maneuvers that were learned.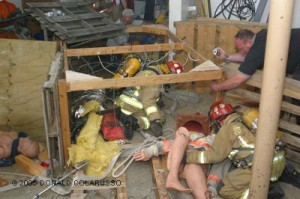 Then in 2003, Unexcelled Firefighters attended the Firefighter Rescue & Survival School in Clearwater, Florida.  This three day program was taught by members from FDNY Rescue Company 1, and was an incredibly challenging program.  The program included classroom sessions and a great deal of hands-on training.
The practical sessions included structural collapse courses with a variety of challenges and rescues.
Unexcelled Firefighters returned to this class each year it was held, 2003-2005.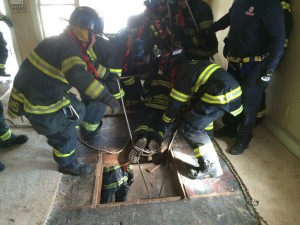 Today, the Unexcelled Fire Company continues to train incredibly hard and take advantage of every opportunity available.
In 2014, Unexcelled Firefighters received permission to use a vacant 2-1/2-story house on Embury Avenue for training.  A Firefighter Rescue Class was developed and offered to the entire Neptune Fire Department.
Members received the RIT Awareness class a few days earlier, and then presented the hands-on session.
Each participant was rotated through various skill stations that trained them on the Denver Drill, the Nance Drill, a Vent-Enter-Search Drill and a challenge course under duress (zero visibility and loud radio transmissions).  Following the skill stations, the students participated in firefighter rescue scenarios.
The Unexcelled Fire Company provides mutual aid as a Rapid Intervention Team not only to our neighbors, but when called county-wide and elsewhere.  Presently, we respond to working fires in the City of Asbury Park, the City of Long Branch, Neptune City, Bradley Beach, Ocean Grove, Avon, Tinton Falls, Wall Township, Allenhurst, Eatontown, Oceanport, Spring Lake Heights, Monmouth Beach, West Long Branch and several other towns.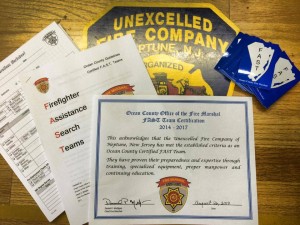 We are also a recognized Rapid Intervention Team by the Monmouth County Fire Marshal's Office and for over 10 years as an Ocean County Fire Marshal's Office certified F.A.S.T. Team.
We are very proud to have the designation through Ocean County.  That process includes an audit every three years and an inspection of our equipment and training records by the Ocean County Fire Marshal.
* See photo right
The Unexcelled Fire Company continues to work and train hard to provide the highest level of service to our neighboring towns and our brother and sister firefighters.
For questions or training information, please feel free to contact Don@UnexcelledFire.com.