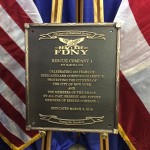 On March 8, 2015, the Fire Department of New York's Rescue Company No. 1 celebrated 100 years of service.
The centennial ceremony was held at Rescue 1's firehouse located at 530 West 43rd Street in Manhattan, with dignitaries including the Fire Commissioner Daniel Nigro, Chief of Department James Leonard and others.
The company commander, Captain Rex Morris, was the master of ceremonies for the event.
Active and retired Rescue 1 members, as well as family members, friends of the company and members from other FDNY companies filled the firehouse and overflowed to a party tent that was just outside the door on 43rd Street.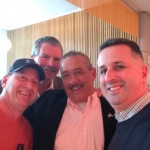 Several Unexcelled Fire Company firefighters and long time friends of Rescue 1 were also in attendance.  Over the years, our members have visited, trained with and established friendships with these men.
Following the ceremony, attendees made their way to the Yotel Building, located around the corner on 10th Avenue, for the presentation of awards and after party.
The Unexcelled Fire Company extends our congratulations and best wishes to our friends and brother's of Rescue 1.
Photo:  Unexcelled Firefighter Frank Sutphin, Honorary FDNY Chief Ray Maquire, FDNY Retired Captain Al Fuentes and Unexcelled Lieutenant Donald Colarusso.