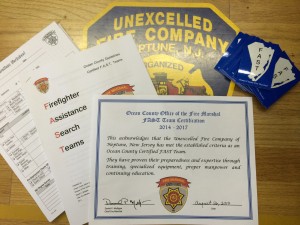 On August 26, the Unexcelled Fire Company was once again "certified" as a F.A.S.T. team in accordance with Ocean County Fire Marshal's Office guidelines.
For the past ten years, the Unexcelled Fire Company has held this certification, which is valid for a period of three year.  After the three years it is reviewed and can be renewed.
Ocean County has a formalized program that includes an inspection by the Chief Fire Marshal who reviews staffing certifications, equipment, operating guidelines and other factors.
The Unexcelled Fire Company has maintained an active Rapid Intervention Team since the late 1990's, and was one of the first in Monmouth County.  They are generally referred to as the "model" by the Monmouth County Fire Marshal's Office and are very reliable.
For more that 15 years, Unexcelled Firefighters have worked incredibly hard, and have dedicate much time and their personal money to equip themselves and attend training classes.  Several members travelled to Clearwater Florida at their own expense to attend advanced firefighter rescue training classes.
Today, the Unexcelled Fire Company response mutual aid to twelve neighboring towns as a Rapid Intervention Team, and are also called beyond those twelve towns as need and when called.
For additional information on Unexcelled Fire Company's Rapid Intervention Team, equipment and training, please contact Don@UnexcelledFire.com