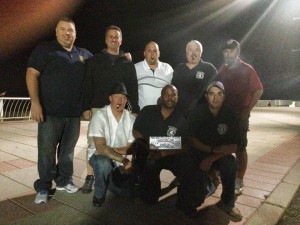 Members of the Unexcelled Fire Company attended the 7th Annual Cigar Dinner Fund Raiser in support of Long Branch Firefighters FMBA Local 68.  The event was held on September 18 at Rooney's Restaurant along Ocean Avenue in Long Branch.
Unexcelled Fire Company responds to all working fires in the City of Long Branch and are big supporters of their friends at Local 68.
The annual event features a Gift Auction, Raffles and buffet meal including dessert.
For details on this annual event and to see more about the FMBA Local 68, please visit their website at Long Branch Firefighters, Local 68.
Also, please support their Fund Raising effort to support the fight against cancer.  A T-Shirt fund raiser "Lets Give Cancer The Boot" is underway.  Shirts can be purchased through the Local 68 website.