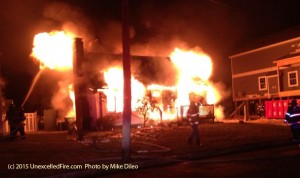 A Neptune Fire Department "General Alarm" was transmitted on January 25, 2015 at 10:43 PM for a structure fire at 104 Melrose Avenue in the Shark River Hills section.  The incident was elevated to a second alarm.
Unexcelled Fire Company responded with 17 firefighters on Ladder 34-4-90 as the first due ladder and Engine 34-4-75, which arrived shortly after.
Heavy fire was throughout the single family home that was vacant and under construction.  Firefighters immediately deployed hose lines to protect the the neighboring homes from the intense heat.
The fire was brought under control after approximately 30 minutes.
Agencies that were also on scene included Shark River Hills Fire Company (first due), Liberty and Hamilton, Neptune Office of Emergency Management, Neptune Police, Neptune EMS and the Tinton Falls Rapid Intervention Team.
The fire is under investigation by the Neptune Fire Marshal and the Monmouth County Fire Marshal's Office.
The were no injuries reported on scene.