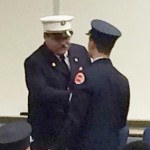 The Unexcelled Fire Company congratulates Probationary Firefighter Matthew Coleman on his graduation from the Fire Academy.
FF Coleman joined Neptune Fire Department's downtown company in October 2013.  He began the fire academy in August of 2014, which ran for 15 weeks.
In the fire academy, recruits were instructed on numerous topics including basic firefighting including engine company and truck company operations, terrorism, building construction, hazardous materials, public relations, fire alarm investigations and much more.
Monmouth County Fire Academy Class #104 graduated 22 students.
FF Coleman will have some great opportunities to learn and experience a great deal of what the fire service is all about.  The company that he is assigned to – Neptune Fire Department, Station 4 – responds to approximately 600 calls a year, including responses mutual aid to more than a dozen towns for all working fires.
The Unexcelled Fire Company wishes Matthew all the best as he begins the very noble position as a firefighter.