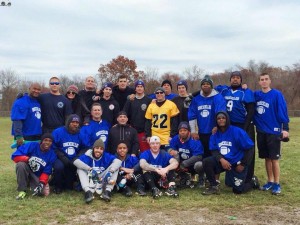 On November 29, the South Wall Fire Company and the Unexcelled Fire Company (Neptune) played their annual "Turkey Bowl" flag football game.
The game alternates sites, and this year was held in Wall Township.
South Wall Fire, led by their fire chief John Sahatjian, played an outstanding game.
However, this year they came up short and suffered their second straight loss to team Unexcelled Fire Company.
"It's a great game every year", said Unexcelled Captain Don Colarusso.  "Our friends at South Wall are great to be around, whether if its playing football or training together, which we do a few times a year".
Unexcelled took the victory 8 to 2.  But more importantly, everyone had a great time and there were no injuries.