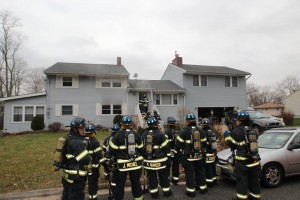 On December 21 at 1:54 PM, the Unexcelled Fire Company was dispatched to the City of Asbury Park for a 2-Alarm fire at 610 Sewell Avenue, Munroe Towers.  Engine 34-4-75 responded to the scene to assist Asbury Park Fire Department with a fire in the basement.  Ladder 34-4-90 responded to Asbury Park Fire Headquarters to provide ladder coverage for the city.
Then at 2:07 PM, a working fire was reported at 21 Summerfield Place in Neptune Township.  Engine 34-4-75 and Ladder 34-4-90 were released from Asbury Park, and responded.
Upon arrival of Unexcelled firefighters, the fire was located in the lower level of a two story bi-level private dwelling.  The fire was quickly extinguished, and searches were negative.
Unexcelled Engine 34-4-75 and Ladder 34-4-90 was on scene with 16 firefighters.
The first due Engine was 34-3-76 from Shark River Hills Fire Company.  Also on scene was Liberty Fire Company, Hamilton Fire Company, Neptune EMS, Neptune Office of Emergency Management and Neptune Police.
The fire is under investigation by the Neptune Fire Marshal and Monmouth County Fire Marshal's Office.