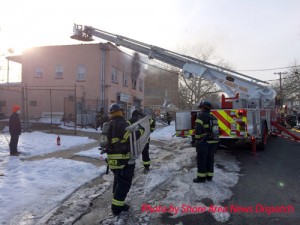 Unexcelled Firefighters continue to be incredibly busy, responding to multiple emergencies in Neptune and in neighboring towns.
On Tuesday, February 25, Neptune Fire Department's down company was dispatched to seven emergencies in 9 hours.  This included responding to two 2-Alarm fires – one in the City of Long Branch and two hours later in the City of Asbury Park.
January was no better, with firefighters handling 70 emergencies.  Cold temperatures certainly have played a part in the increased call totals.
In the shortest month of the year, February has so far generated 70 calls for service, with a few more days to go.
Here is a rundown on Tuesday's calls that the Unexcelled Fire Company was dispatched to.
11:11 AM:  Trash Fire at 2200 Hwy 66
11: 50 AM:  Smoke Odor at 1323 Monroe Avenue
12:23 PM: Fire Alarm at 56 Taylor Avenue
2:01 PM:  2 Alarm Fire at 365 2nd Avenue in the City of Long Branch
4:14 PM:  2 Alarm Fire at 1004 1st Avenue in the City of Asbury Park
4:20 PM:  Cover Assignment (Ladder 34-4-90) for City of Asbury Park
7:58 PM:  Carbon Monoxide Alarm at 1202 Alpine Trail
* Photo from Asbury Park 2-Alarm Fire, shown courtesy of Shore Area News Dispatch (S.A.N.D.)
##