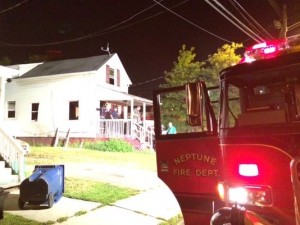 A Neptune Fire Department "General Alarm" was transmitted on September 11 at 8:25pm for a reported structure fire at 707 Atkins Avenue off of Hwy 33.  Unexcelled Engine 34-4-75 was first due and found heavy smoke from the first floor porch.  Crews entered and began searching for the seat of the fire, but initially were unable to locate.
Unexcelled Ladder 34-4-90 was the first due truck and quickly conduced horizontal ventilation.
A second line was stretched to the basement.  The fire was located deep in the basement, and was quickly confined and extinguished.  There was some extension to the first floor that was also quickly knocked down.
Primary and secondary searches were negative.  The two-story single family dwelling was vacant at the time of the fire.
There were no injuries.
The fire is under investigation by the Neptune Fire Marshal, the Monmouth County Fire Marshals Office and the Neptune Police.
In addition to the Unexcelled Fire Company, Neptune's Shark River Hills, Hamilton and Liberty fire companies were also on scene.  Mutual aid companies from Ocean Grove and Tinton Falls responded to assist.  All firefighters did a tremendous job!
This was the second multiple alarm fire that Unexcelled Fire Company responded to on this date.