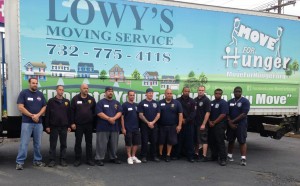 The first annual "Truck Pull" event was held at the Headliner Night Club on September 13, 2014.  This event was a benefit for the MOVE FOR HUNGER organization – a hunger relief organization that works with relocation companies to collect extra food from people who don't need it, and deliver it to food banks all across North America.
Unexcelled Fire Company participated in the event, along with our partners from the Neptune Office of Emergency Management.
Teams of 10 competed in a timed competition to see who could pull a truck in the fastest time.  12 teams participated, and the Unexcelled Fire Company team finished in Second Place!
However, the best part is event is that the proceeds go directly to Move For Hunger organization, which is based right here in Neptune Township.
For more information on Move for Hunger, please visit their website at www.MoveForHunger.org