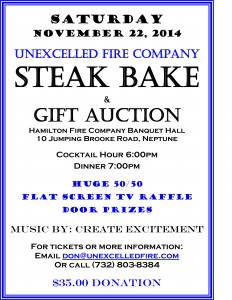 The Unexcelled Fire Company will once again hold its Annual Steak Bake & Gift Auction Fund Raiser.  The event will take place on Saturday, November 22 at the Hamilton Fire Company Banquet Hall located at 10 Jumping Brook Road.
This event sells out each year, and is once again expected to be a huge hit with participants.
The Gift Auction features hundreds of gifts rangine from sporting event tickets, gift certificates and crafts, to auto detailing, boat trips and much more!  The event will also include a huge 50/50 raffle and a Flat Screen TV raffle.
Tickets a $35.00 donation and are limited, so please call (732) 803-8384 or email Don@UnexcelledFire.com to arrange for your tickets.