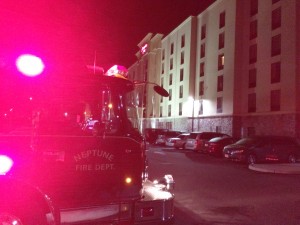 A Neptune Fire Department "General Alarm" was transmitted on October 11 at 11:18 pm for a reported odor of gas at 4 McNamara Drive – the Hampton Inn Hotel off Highway 66.
Unexcelled Fire Company Ladder 34-4-90 with 8 firefighters responded.
Upon arrival, Unexcelled firefighters, using gas detection equipment, checked the interior of the hotel, the natural gas service connections and a general check of the exterior of the hotel property.  No odor of natural gas was detected.
Neptune Township Emergency Management Haz-Mat team representatives were also on scene.  The possible source of the odor was determined to be from the Monmouth County Landfill in bordering Tinton Falls.
Unexcelled Fire Company and Neptune OEM were assisted by the Neptune Police and Neptune EMS.