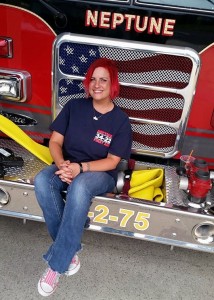 Stacey LeAnne Jarvis, 28, a volunteer firefighter with the Neptune Fire Department – Liberty Fire Company and volunteer EMT with Neptune First Aid Squad, died at home on Tuesday in Asbury Park.
Stacey not only dedicated herself to her community, she was an eight-year veteran of the Army, serving in Germany and Iraq.
In the year since her honorable discharge as a Sergeant in the Army, Stacey set an example for volunteer service in Neptune, answering hundreds of EMS and fire calls. At the Monmouth County Fire Academy, she proved a leader among her class, impressing instructors and students alike.
Among her peers, Stacey was seen as an intelligent, witty and adventurous friend. We saw greatness in her future, and her unimaginable loss has left us heartbroken.
Stacey is survived by her mother, Theresa Rodriguez; stepfather, Bill Rodriguez; father, Walter Jarvis; grandfather William Olman; and siblings Walter Jarvis III, Joseph Jarvis, Alexcia Rodriguez, Willy Rodriguez, William Rodriguez, and Olivia Rodriguez. She was predeceased by her maternal grandmother, Barbara Olman, and her cousins, Anthony Olman and Misty Leblanc.
A viewing will be held from 5 to 9 p.m. Friday, Nov. 7, at the Francioni, Taylor and Lopez Funeral Home, 1200 10th Ave., Neptune. A funeral Mass will be held at 10:30 a.m. Saturday, Nov. 8, at Our Lady of Mount Carmel Church, 1201 Asbury Ave., Asbury Park. Interment will be in the veterans section of Monmouth Memorial Park, Tinton Falls.