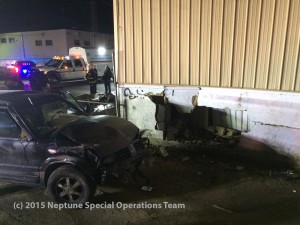 Unexcelled Fire Company was dispatched to 1110 Tenth Avenue, east of Atkins Avenue, for a reported car versus building accident.  The incident was reported on February 11 at 9:00 PM.
First responders found that a small SUV had struck a single family home, damaging the front porch.  The vehicle then continued to the neighboring commercial, building striking a masonry wall.  As a result, the Neptune Special Operations Team – Station 34-8 – was dispatched.
Special Operations Team members – made up of Unexcelled Fire Company, Neptune Office of Emergency Management, Neptune Emergency Medical Services and Shark River Hills Fire Company – assessed the structural damage.  In addition, the Neptune Building Department was requested and responded.
Once the scene was secure, the incident was turned over to the building department for follow up. Neptune's emergency services operated on scene for approximately an hour.
The driver was treated by Neptune Emergency Medical Service (EMS) and transported to Jersey Shore University Medical Center.
A Special Operations Team (34-8) response includes OEM Unit 34-9-85 towing the Special Operations Team Collapse Trailer, Unexcelled Ladder 34-4-90, Mobile Ambulance Bus (MAB), and Field Com.  In addition, Neptune's EMS, OEM, Police and the Building Department were on scene.
Photo provided by Neptune Special Operations Team
##