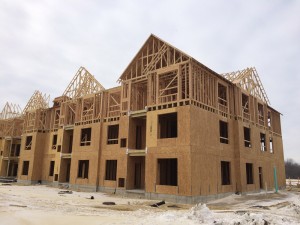 On February 11, 2015 at 5:30 PM, the Unexcelled Fire Company was dispatched to 305 Jumping Brook Road 66 for a rescue assignment.
This site is an extremely large complex of 3-story apartment buildings located between Jumping Brook Road, State Highway 66 and Hovchild Boulevard.
Reports were that a construction worker fell from the roof of a three story apartment complex that was under construction.
Tower Ladder 34-4-90 arrived with members of Neptune's Special Operations Team, along with Hamilton Fire Company – Tower Ladder 34-1-90.  Members of Unexcelled Fire Company ascended up to the third floor and met with Neptune Emergency Medical personnel and paramedics.  It was determined that the worker fell from the top of the open truss roof, and onto the third floor decking.
EMS and firefighters packaged the male victim and secured him into a stokes basket.  It was necessary to remove the victim via the third floor window, due to the site being in the early stages of construction, which did not include finished stairwells.
Unexcelled Tower Ladder 34-4-90 was placed at the third floor window, and the patient transferred to the bucket for removal to the ground.
Once down, the injured worker was transported to Jersey Shore University Medical Center by Neptune EMS.
Units on scene included Unexcelled Fire Company, Hamilton Fire Company, Neptune Emergency Medical Services (EMS), Neptune Office of Emergency Management (OEM), Neptune Police Department and MONOC Paramedics.
##