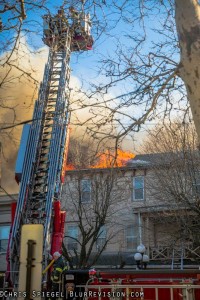 Neptune Fire Department's Unexcelled Fire Company was dispatched to assist the Ocean Grove Fire Department on February 6, 2015 at 3:39 PM.  The request was for a reported working fire at the Bella Visa, located at 50 Main Avenue.
Unexcelled Engine 34-4-75 and Ladder 34-4-90 responded and was among the first units to arrive, along with Ocean Grove fire units.
Firefighters found a quickly advancing fire in a three story mixed use occupancy, which was home to 4 businesses and 10 apartments.  Hoselines were stretched and an aggressive fire attack was initiated, including protecting the neighboring exposures.
During firefighting operations the building collapsed, which hampered suppression efforts.  Multiple tower ladders and aerial trucks were strategically placed and doused the building with water.
Multiple alarms were transmitted, bringing in fire department's from surrounding communities including Neptune, Asbury Park, Bradley Beach, Allenhurst, Neptune City, Tinton Falls and others.
Neptune's emergency services supported firefighting efforts, including the Neptune Office of Emergency Management, Neptune Emergency Medical Services, Shark River Hills MAB unit, Neptune Public Works Department and others.
Three firefighters were injured during the fire.
Ocean Grove Firefighters are expected to remain on scene throughout the night.
The fire is under investigation by the Neptune Police, Monmouth County Fire Marshal's Office and Prosecutor's Office.
— Photo courtesy of Chris Spiegel, BlurRevision.com
##