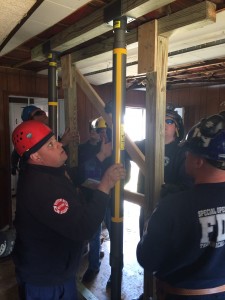 Neptune's Special Operations Team is poised for another year of training and readiness.
Station 34-8 maintains a roster of 50 members, which is comprised of personnel from the township's Office of Emergency Management (OEM), Fire Department (NFD), Emergency Medical Service (EMS) and Police Department (NPD).  They respond township-wide to any technical rescue emergency, such as a confined space rescue, structural collapse, or other emergency that is beyond the capabilities of initial responders.
The Special Operations Team has been in service since 2009.  They train each month on various skills and scenario's to prepare them for an emergency.  Click here to view Special Operations Drill Schedule.
In 2014, five members of team attended advanced training at the Lakehurst Naval Base – home of New Jersey's Urban Search and Rescue (USAR) Team and home to their training facility.  Members attended Structural Collapse Operations 1 (SCO-I) and Structural Collapse Operations 2 (SCO-II).  This class provided advanced skills in collapse operations, shoring, breaching and breaking, and much more.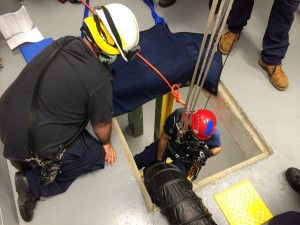 Station 34-8 again has a very aggressive training schedule, including advanced training in trench rescue, confined space and ropes and rigging.
Neptune's Special Operations Team is lead by a Team Commander and Team Leader.  Assistant Team Leaders are assigned to Operations, Logistics, Medical and Planning.
In an emergency, the team responds with the following units:  Unexcelled Tower Ladder 34-4-90, OEM URescue Unit 34-9-85, Collapse Trailer, Mobile Ambulance Bus (M.A.B.), and the Special Operations Vehicle (S.O.V.).
The team also works in coordination and cooperation with initiatives from Monmouth County and other local Technical Rescue Teams.
To read more about the Neptune Special Operations Team, please visit About the Neptune Special Operations Team, Station 34-8.