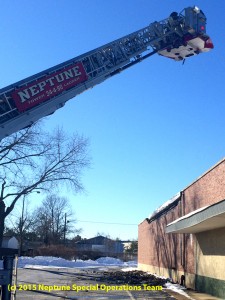 The Unexcelled Fire Company, as part of the Neptune Special Operations Team, was dispatched to a reported roof collapse on January 28 at 1:46 PM.
The incident occurred at 81 State Highway 35 near Heck Avenue – the Living Word Church.
Unexcelled Ladder 34-4-90 with Special Operations Team members and equipment cache, responded.
Upon arrival, team members found a partial wall collapse of the exposure B side exterior wall.  The building features a bowstring truss roof, which also had the added weight from the recent snow storm Juno.
The building was evacuated and a collapse zone established.
Representatives from the Neptune Township Building Department responded to survey and assess the damage.
Neptune's emergency services were on scene for approximately an hour, before being turned back over to the building owner for further engineering review and repairs.
Agencies on scene included the Neptune Special Operations Team, Neptune Office of Emergency Management, Neptune Fire Department, Neptune EMS, Neptune Police, Neptune Construction Department, JCP&L, NJ Natural Gas and NJ American Water Company.